Tank Monitoring
Always know how much propane you have!
Propane is an essential fuel for many homeowners here in Northern Arizona. It provides efficient home heating, water heating and cooking, as well as countless other benefits through supplemental heating appliances like gas logs, patio heaters and more.
Knowing that you have enough propane for all those uses—and appliances—is paramount. It's why so many of your neighbors trust Superior Propane for reliable propane delivery all year long! However, if you want even more precision when it comes to your propane delivery, you're not alone. That's why we're now offering our customers wireless propane tank monitoring with Anova! It's the ultimate in ease, convenience and peace of mind when it comes to monitoring your fuel levels.
How does wireless propane tank monitoring work?
The wireless propane tank monitor is attached right to your propane tank—with setup taking just minutes. Once activated, it tracks exactly how much propane is in your tank and uses both wireless and cellular technology to send that information directly to Superior Propane, Inc.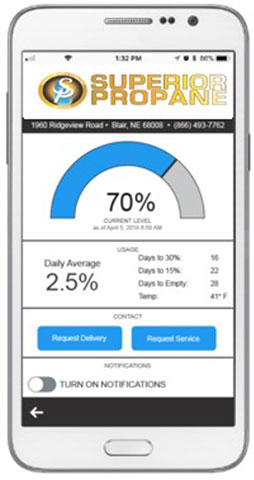 Additionally, you are also able to track your tank levels at any time via mobile app—available on both the Apple Store and Google Play. Download the app right to your smartphone, create an account and always be in the know about how much propane you have on hand!
Our wireless propane tank monitoring service is available to ALL Superior Propane. customers, whether you use Keep Full automatic delivery or traditional Will-Call delivery. For example, if you use Will-Call, you'll get an alert on your phone when your propane tank reaches a set level, and you can use the app any time of day or night to request a delivery. It's easy as that!
Only a $100 nonrefundable deposit and $100 annual maintenance fee is required.
Who benefits from wireless propane tank monitoring?
The answer is simple: everyone! But there are some specific reasons that having a wireless propane tank monitor is a great idea for your home.
One key reason is if your propane usage fluctuates largely throughout the year. This applies to people who travel away from their residence frequently, or who live elsewhere for part of the year. This takes the labor out of having to check—or remember—when the last time you fueled your tanks was, or how much fuel you assume you have left.
Wireless propane tank monitors are also ideal for second homes and income properties. You can keep an eye on the propane supply without having to physically go there. And with our wireless tank monitoring app, you can even track multiple tanks—all in one easy-to-use interface!
Be assured that you'll ALWAYS have the propane you need. Fill out the form here to get more information about our wireless tank monitoring service today!