Propane Delivery in Kingman, AZ: Reliable, Efficient, and Convenient
Superior Propane is Mohave County's Most Trusted Propane Delivery provider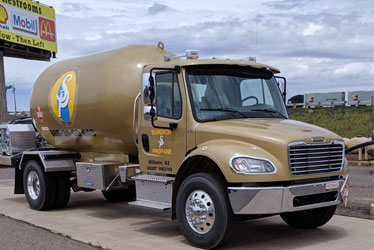 If you're looking for a propane delivery company that is committed to safety, affordability, and customer satisfaction, you've come to the right place. Our loyal customers are the backbone of our business, and we're proud to provide them with the highest level of service and support. When you choose us, you can trust that you'll receive prompt and reliable service that's tailored to your unique needs and schedule. We understand the importance of respect, and we treat all of our customers with the utmost professionalism and courtesy.
Our full-service approach means that we provide not only reliable propane delivery, but also the support and guidance you need to make informed decisions about your energy usage.
You can count on our friendly, experienced propane delivery staff to show up when you need us.
With our emphasis on delivering premium propane at a fair price, you can rest assured that you're getting the best deal in Kingman without sacrificing quality.
When other propane companies drop the ball, Superior Propane has ample resources to keep your propane delivery on schedule.
You can request service and remit payments conveniently online.
It's never been easier to get fast, efficient propane delivery – contact us now to learn more.
Contact Us
Looking for dependable propane delivery for your Kingman home? Superior Propane is ready to help. Become a customer today!
About Us
At Superior Propane, we are not just a propane delivery provider – we are a valued member of the community, and we look forward to continuing to serve our customers for many years to come.
NOTE: If you have an emergency, call us at +1-928-635-1314. Do not email or contact us via this website. Our knowledgeable staff will be able to provide you with prompt guidance and support in the event of a propane emergency.
Address:
Superior Propane Inc. 600 E Frank Way, Williams, AZ 86046
---
Phone:
+1-928-635-1314
---
Hours:
Sunday: Closed
Monday: 8:00am – 5:00pm
Tuesday: 8:00am – 5:00pm
Wednesday: 8:00am – 5:00pm
Thursday: 8:00am – 5:00pm
Friday: 8:00am – 5:00pm
Saturday: Closed
Superior Propane Services
PROPANE TANK
Professional propane tank installation.
Propane tank maintenance services.
On-site propane tank removal.
COMMERCIAL PROPANE
Commercial propane for fleet fueling and more.
Easily schedule a commercial propane delivery today.
On-site commercial propane tank installation, scaled to your business.
Bulk propane delivery and services save you money.
AUTOGAS
Propane autogas for your fleet fueling needs.
Competitive propane autogas prices save you money.
Check to see if our propane autogas locations are near you.