Cooking With A Propane Stove: What Are The Benefits?
Written By: on August 24, 2020
Get ease, control, and delicious results!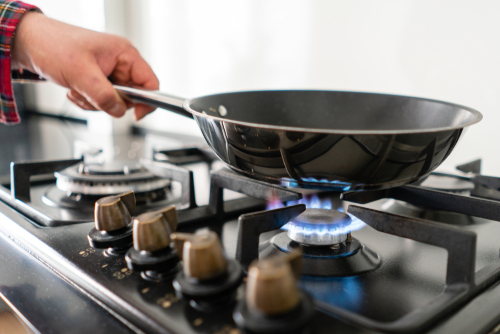 There are many reasons chefs, both in restaurants and on your favorite cooking shows, use gas stoves. They know that when it comes to getting the results they want, gas stoves have electric stoves beat by a mile!
And wherever you live here in northern Arizona, you can enjoy cooking on a gas stove when you have propane delivery from Superior Propane Inc.! Our propane appliance experts can help you choose the right stove for your home, keep your tank filled, and may even be able to help you get rebates, too.
Here are some reasons why propane stoves are the right choice for your home:
Take control of your cooking
With propane, you get much more precise control of the stove's heating than you do with an electric stove. On a propane stove, you get instant results when you adjust the heat levels. Electric stoves take far longer for the burners to heat up, and subsequently, to cool down.
That time can make the difference between a delightfully medium-rare steak and shoe leather.
Your adjustments on a propane stove are also much more precise. Electric stoves have set levels, with no option for anything in-between.
The burners on propane cooktops provide a more even distribution of heat, too. So if you're cooking something delicate like fish or sauces, there are no hot spots that can cause burning.
One great feature available on propane stoves is a long center burner that accommodates griddles or grill pans and heats them evenly. Whether it's weekend pancakes or weeknight grilled chicken breasts, that center burner makes it easy! Propane stoves also offer features like sealed burners for easier cleaning and convection ovens.
Speaking of ovens, a propane oven preheats faster, while also providing a moister heat, which can help prevent those Sunday roasts from drying out. Broiling is neater, cleaner, and less smoky as well.
Save money with propane
Propane is also a less expensive, more efficient way to cook. Compared to electric stoves, propane stoves can cost around 30% less to operate. Some of those savings comes from faster preheating of the oven and quicker stovetop heating.
Plotless ignitions on propane stoves mean you're using less propane, making the fuel in your tank last longer and saving you even more money.
All those savings can go right towards a nice dinner party!
At Superior Propane Inc., we have the knowledge and experience to help you choose the best propane appliances for your home at the best price. We can also help you get rebates on qualifying propane appliances.
And once you have propane appliances, you'll need propane! We can set you up with the right size propane tank, and you'll get reliable and safe propane delivery from us for years to come. Give us a call today – switching to Superior is quick, easy and hassle-free!